The hard shelled gourd of the species Lagenaria has been in use as a container by man for many centuries. Its utilitarian design combined with its durability has made it a common item of use from primitive man through present day societies.
This website has come into being because of the numerous inquiries I have had regarding using these wood-like natural containers for historical living history lifestyle portrayals.
This site contains links to using gourds as containers for liquids as in gourd canteens. Also there are photos on this page showing different styles of gourds, relative sizes and some other art ideas that the gourd lends itself to.
Please note that I do not have any historical documentation as to the different styles that had been used in the 18th Century. I have seen the use of dipper gourds and small bottle gourds in some 18th Century artifact collections but that is the extent of the documentation. Although somewhat sturdy the gourd container will grow fragile with age and this may be one reason that there are not a lot of existing specimens.
From time to time I may add to this page as I see fit. Possibly some horticultural info would be nice. I have been growing Lagenaria type gourds in NE Pa for nearly 25 years and have grown some pretty rare varieties, although the long growing season of these gourds makes it a real challenge.
---
How to make a Gourd Water Bottle or Canteen
Text Page read with your browser
.PDF file- approx 57 k needs Adobe Acrobat Reader
---
Photos:
Water bottles : possible 18th Century styles, showing relative sizes
12 inch ruler for size comparison.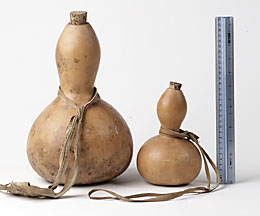 A canteen : made from a tobacco box or canteen gourd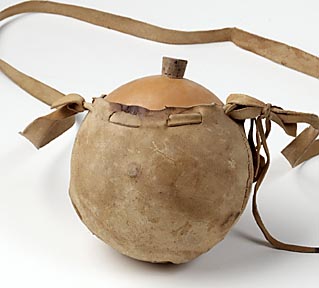 A canteen: showing relative size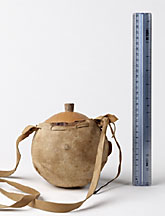 Some additional Styles : very useful- Tobacco box, Indonesian water bottle, & Canister Gourd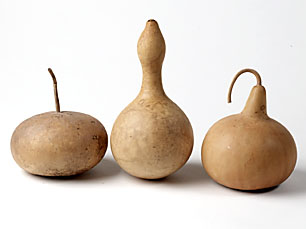 Gourd utensils : Bowl and dipper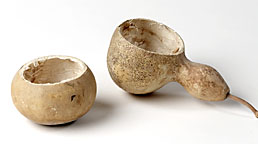 Proper wall thickness : these gourds will last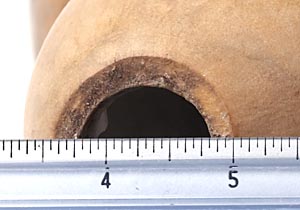 Some art projects- functional containers as art.
Decorative container : decorative storage boxes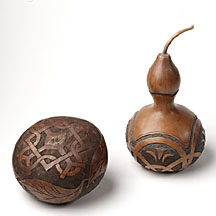 Decorative container: closer view of bottle gourd as a decorative box.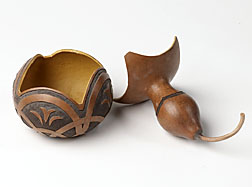 Decorative container : some of the box, designs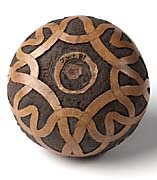 Decorative container : wine flask from an artistic dipper gourd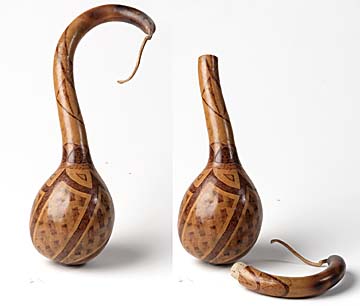 Click Here For Information about The American Gourd Society

---
Return to the Live 18th Century Home page
&copy Copyright 1999-2009, JWFilipski Liv18thc
This page last updated 01/ 04/ 2009